Tree New Mexico has been planting trees since 1990 throughout New Mexico. We have engaged the support and participation of thousands of partnering agencies, groups, and volunteers in our planting and education programs. In March of 2007, we planted our millionth tree! Our planting partners and volunteers – YOU – have helped make this happen! With our new membership campaign, please help us plant a million more!
Join Now!
Benefits of Membership
Tree New Mexico's newsletter which highlights our tree planting efforts and education sessions around the state, community updates, and more. We are in the process of going 'paperless'. If you would like to receive the newsletter, please sign up or email us and you will be added to the list!
You will receive information about how you can get involved in your local area.
The satisfaction of knowing that you are making a cost-effective, meaningful contribution to helping the planet.
The confidence knowing that for every dollar donated to Tree New Mexico, the majority goes directly to tree planting and education!
To become a Tree New Mexico member today, simply fill out our registration form.  All membership dues are tax deductible to the extent allowed by law.
Step 1: Fill out Membership Registration
Step 2: Make your donation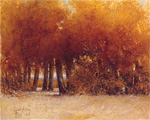 DONATE NOW
For donations of $50 or more, receive a free Dan Godfrey print!
unframed 8×10 4-color offset print
www.dangodfrey.com