April 12 – April 15, 2013

The Blue Trees is an international art event coming to Albuquerque through the efforts of Tree New Mexico. We are bringing the Australian artist, Konstantin Dimopoulos, for a celebration of Earth Day and the unsung role of trees in our community, as we re-launch our Energy Conservation and Trees Program.
As only the seventh city in the United States to host The Blue Trees, Albuquerque is on the leading edge of this electric and arresting art installation which will surely draw immeasurable attention to the Duke City.
During the week of Dimopoulos' visit to Albuquerque, he will engage with students and community members through lectures and discussions on several campuses (tba.) The week will culminate in the painting of trees at 3 sites (possible locations include the 4th Street Mall and Tingley Beach) and a number of containerized trees to be planted in Grisham Park. (The paint is non-toxic and wears or washes off without harm to the trees.)
Volunteers will work under the direction of the artist to create the installation.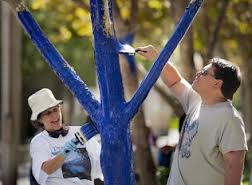 A reception with the artist for sponsors, supporters and partners is planned for the opening weekend and the installation will be documented by photographer Kyle Zimmerman.
To date, Wells Fargo has committed as a Presenting Sponsor; the City of Albuquerque Cultural Affairs Department as Silver Sponsor; and the Albuquerque Convention and Visitors Bureau as a Gold Sponsor.